Fall Feast For The Senses
With Kim Saunders, founder of Lift Yoga & Therapy
September 29 - October 1, 2017
Reconnect with your heart and soul at the serene sanctuary of Elohee Retreat Center near the lovely village of Sautee Nacoochee.   Escape the demands of daily life as you recharge and nourish your spirit in this fern-filled forest setting, and listen to the waterfalls and the sounds of nature.  Dine on healthy cuisine, experience meditative yoga, explore noble silence, mindful nature walks and tranquil ponds.  Optional VIP wine tour on Friday as well.  Stress melts away as you find your soul again.
Our retreat has been created with your health and well-being in mind allowing you to truly rest, relax and rejuvenate; we provide a place where you can unplug, unwind and uplift your spirit.  Retreat is all inclusive including: accommodations, delicious and mostly organic meals, classes and activities. Optional VIP wine tour, spa and massage treatments are available as well.   Nourish your body, heal your soul.  Once you visit, you'll want to return again and again.
2 night stay in beautiful new eco-cottages with panoramic 360 degree views on top of Bald Mountain
Delicious & Healthy Cuisine
Optional 2 Vineyard VIP wine tasting (tasting fees and lunch included)
3 yoga classes (including yoga nidra) All levels, beginners welcome
Meditation hike through enchanted forests with mountain views and streams
Welcome bonfire reception at the fire ring
Journaling at the Pond and Sacred Water Garden
Access to a mountaintop natural rainwater pool (no chemicals) and hot tub under the sky
Crystal Bowl Sound Bath Healing
Massage available (must schedule ahead of time)
Deposit of 40% of total retreat fee is due upon booking. This deposit is non-refundable but transferable to another retreat or person.  Final payment is due 2 weeks prior to check-in.
**Wine tour is an additional $95 – you must pay for this separately to reserve your spot.  Please CLICK HERE to reserve your spot at VIP Wine Tours.
Retreat Schedule
Friday
10AM: Arrive at Elohee and check-in to room
11:30AM-4PM: VIP Wine Tours scoops us up for a fun day of wine tasting at two gorgeous wineries, and a relaxing lunch.
4:30PM: Arrive back at Elohee
5PM:  Optional Meditation with Sound Healing
5:30PM Welcome Bonfire Reception
6:30 PM Delicious and Healthy Cuisine
8:30PM: Conclude evening with gentle yoga practice plus yoga nidra (a deep relaxation) to carry you off into a deep, rejuvenating sleep – we move into noble silence until noon on Saturday
Saturday
8AM: Optional meditation hike in silence
8 – 9AM: Breakfast in Silence
10-11:45 Silent Yoga Flow & Meditation
12PM – Lunch – come out of the Silence
1-6PM:  Free Time
  massage appointments available
  lounge in natural hot tub & pool
  nature hike
  journal / read
6:30PM:  Dinner
8:30PM: Meditative Sound Bath; sit under the stars and feel the energy
Sunday
8-8:30AM Optional Morning Serenity Hike
9-10AM: Breakfast
10-11AM:  Free time to chill and absorb the magic of Elohee
11-12:30: Meditative Yoga Flow & Releasing Ceremony
1PM: Delicious, farewell lunch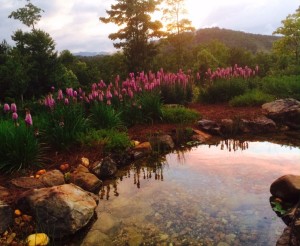 About Elohee Retreat Center: This healing center was created to provide a home in nature for self-exploration, growth and healing.  The 216 acres of Landsong, were purchased by Andy and Carolyn Bralley in 2010 while their daughter, Evie Cook, was battling refractory Hodgkins lymphoma.  Come and enjoy the transformative and healing power of the land.  Elohee is a Cherokee word meaning "earth place." A place where earth and air, fire and water nurture wisdom, both ancient and new.