Fall 2017 Southeastern Yarn and Yoga Retreat
With Kquvien DeWeese, Theresa Vinson Stenersen, Nell Ziroli and Allison Adams
November 16 - 19, 2017
Improve your knitting techniques and replenish your body and spirit at this retreat in the beautiful Northeast Georgia Mountains. Yoga practice and knitting workshops each day in a safe and supportive environment.
"Sit and Knit with Me"
 Intrigued by a tricky pattern? Ready to try a new stitch technique? Want to try steeking but the thought of taking scissors to your knitting gives you hives? You're invited to bring along a project that poses a knotty problem or a learning challenge, and our skilled experts and teachers will be there to help you. We will ask you a couple of weeks in advance if you know what you want to learn, but if you decide while you're there, that's great, too! We'll be ready!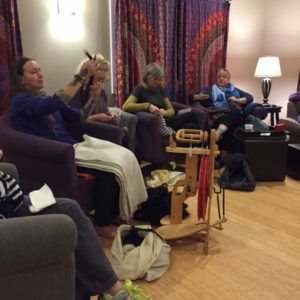 Activities include
Daily yoga instruction with the talented Atlanta-based Iyengar yoga teacher Kquvien Deweese
Daily personal knitting instruction with renowned knitting instructor and designer Nell Ziroli and Knitty techniques columnist Theresa Vinson Stenersen
Field Trip to a Local Fiber Farm
Natural dye vats for yarn
Free time to explore on your own, take naps, or knit and do more yoga!
Optional massage therapy
Beginners and advanced practitioners at yoga are welcome and encouraged! The crafting sessions are geared toward more experienced makers. The schedule is designed so that you may be as involved in the activities as much or as little as you wish.
Location
Elohee is a retreat center located in Sautee Nacoochee, Georgia, about an hour and 45 minute drive from Atlanta. Tucked into a beautiful, wooded mountainside on 216 acres, Elohee includes a village of brand-new cottages that will serve as our accommodations, a studio for our yoga classes, a tea house for the knitting workshops and downtime/social knitting, and a hot tub and adjacent natural swimming pond with spectacular mountaintop views. Elohee also has over two miles of trails that traverse different ecosystems, including a hike to a 100-foot waterfall.
Buffet-style meals are gourmet vegetarian, with meat & fish, vegan, and gluten-free options.  Elohee provides linens and towels.
Field Trip
Adonai's Alpacas, Cleveland Georgia – Llamas, alpacas, and sheep (oh, my!)
Particulars
Tentative schedule (subject to tweaking)!
The all-inclusive price for this four-day retreat includes three nights of accommodations; three breakfasts, three lunches, and three dinners; daily yoga classes; daily knitting workshop sessions; and additional activities. To confirm your place in the retreat, full payment is due no later than November 2, 2017. There are only ten slots available in this intimate retreat, so make your payment early!
Payment and Cancellation Policy:
Deposit of 40% of total retreat fee is due upon booking. This deposit is non-refundable but transferable to another person or another Elohee-based retreat. Payment is due in full 2 weeks before retreat.
 Questions?
Contact Allison Adams at aoapoplar@gmail.com or 404.373.1106.
Leaders